Running successful virtual workshops isn't easy. Especially these days since we've been living in the digital world for quite a while and many people suffer from the Zoom fatigue syndrome. It seems quite natural that when we run workshops online, we try to mirror the in-office experience for all participants. We'd love the attendees to be enthusiastic and engaged just like during face-to-face workshops.
Within the past few years, I have conducted numerous sessions with teams from all around the world and I must admit that it seemed quite challenging in the beginning… When I imagined spending 3-4 hours during a video call with a dozen of people waiting to be entertained, I almost got goosebumps. Nevertheless, I've managed to master remote workshops and leave everyone with a positive feeling that they've spent their time productively. In this article I will share some tips with you on how to run engaging virtual workshops that are both interactive and add value to your daily business performance.

Identifying interests of the target group
It's hard to offer things to people if you have no idea what they really need, right? That's why it's essential to get to know the context of your target group's working environment. What challenges are people facing daily? What do they care about most? How can you come up with quick wins for their actual problems? The goal is to identify how the workshop is supposed to add value to the business performance and to the company's strategy. This way, you can start with creating commitment for all attendees in the beginning of the workshop and ensure everyone's attention.
Active team collaboration
We could start a workshop by telling everyone what to do step by step and make them follow strict instructions. We could. But we shouldn't.
In my approach each workshop is supposed to truly serve people, make them collaborate and boost creativity.
I see myself as a moderator who is helping others to create the best possible solutions all by themselves. My role is also to make sure that everyone is taken care of individually. I can share from my experience that some people are extremely tech savvy and work in the blink of an eye whereas others feel a bit ashamed to admit that they are behind. Make sure to catch this on time so that you can avoid disengagement and frustration during virtual workshops.
Choosing relevant tools
Running a workshop in an office was quite simple as we had sticky notes and a white board. Everybody was engaging in some group activities as well as exchanging information. However, when we do this remotely, we should have some resources that allow us to collaborate in real time. Fortunately, the market has a lot to offer as we can find various tools out there. I strongly recommend performing a thorough research before rushing into a certain tool as many of them have different features. It's also wise to touch base with your IT security team to find out which software is safe to use based on internal data security guidelines. I have worked with various tools such as for example Miro, Mural, or Microsoft Whiteboard – those are just my personal preferences and based on my clients' requirements, but the choice is all yours!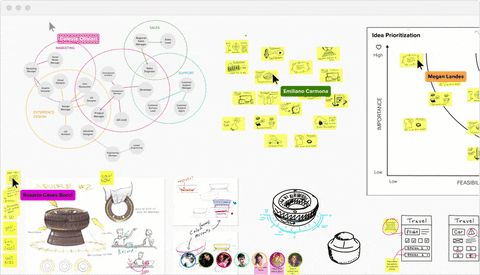 Adapting to internal processes
I make sure to work within the actual software that is being used and establish the best practices right away. This way every participant feels that the workshop truly adds value to their daily performance. We always work on certain cases such as for example creating Slack channels live, implementing Kudo cards in Microsoft Teams (or other), preparing meeting agendas in Fellow, structuring asynchronous communication including short Loom videos and many other. Obviously, adding activities like this will enhance virtual workshops but make sure that your target group really wants it!
A structured timeframe
Having an agenda and planning your time seems like a no brainer, doesn't it? I still believe it's crucial to stress this matter once again. During the workshop itself, it's sometimes quite hard to follow the agenda by every minute because people tend to work at their own pace. This is the reason why there are many different time trackers available and if a certain exercise needs more time, then you just add 2-3 minutes for your participants to finish. In other words, make sure that you prepare at least 15-20 minutes extra during virtual workshops.
Introducing breakout rooms
Breakout rooms are truly amazing during virtual workshops. I often ask people to work in pairs or groups of three in breakout rooms so that they can create their own solutions and prepare themselves for brainstorming with the entire group. This literally ensures engagement at every stage. I mean… There's nothing worse than a 3–4-hour monologue, asking people to collaborate while listening to your voice. However, if you organize people in small groups then they tend to engage much more. Different software offers various opportunities to split into breakout rooms, be it Zoom, Microsoft Teams or other.
Clear workshop rules
I always start with rules. If we respect one another, we'll use the workshop to the full. It's easy to simply switch off your camera or mute your microphone while answering a phone call during the session, isn't it? Some people believe that such behavior won't bother anyone since they're sitting alone with their laptops. Well, this is not only rude but disengaging for the rest of the group. So, I always tend to establish rules such as "camera is always on", "no questions are stupid", "feel free to comment anytime" and "raise your hand if you need help".
Finally, if you truly want to master virtual workshops, make sure to explore new solutions regularly. From the technological perspective, I am personally amazed by the number of software updates, plugins and online initiatives that appear on a regular basis. Attending various workshops as a participant is also a great idea before you decide to run them on your own. That's how you find out more about different perspectives and consequently tailor the best framework to fit your audience's needs.
Newsletter
Want to stay up to date with remote work? Make sure to subscribe to Nadia's newsletter